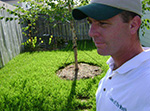 About Us
Lawn of the Month, LLC. is a Texas company founded by Bryan Hooper. Bryan has 15 years industry experience and saw a need for a simple, no hassle, lawn treatment and pest control service done by a local homeowner that understands our local economy and environment.
Everyone wants to have a great lawn that is thick, green, and healthy. Maintaining a lawn takes experience, patience, and in-depth knowledge of lawn, pest control, and environmental needs.
This is where Lawn of the Month specializes in taking care of its customers. Our personal one-on-one service shows our commitment, care, and desire to give you a quality lawn that will make you the envy of the neighborhood. Our no hassle approach makes maintaining your lawn easy and fun. We are always available to answer any questions you may have, so feel free to call 832.878.4928 or use our Contact Us Form. We will respond as soon as possible.
Personalized service, Lawn of the Month Results!